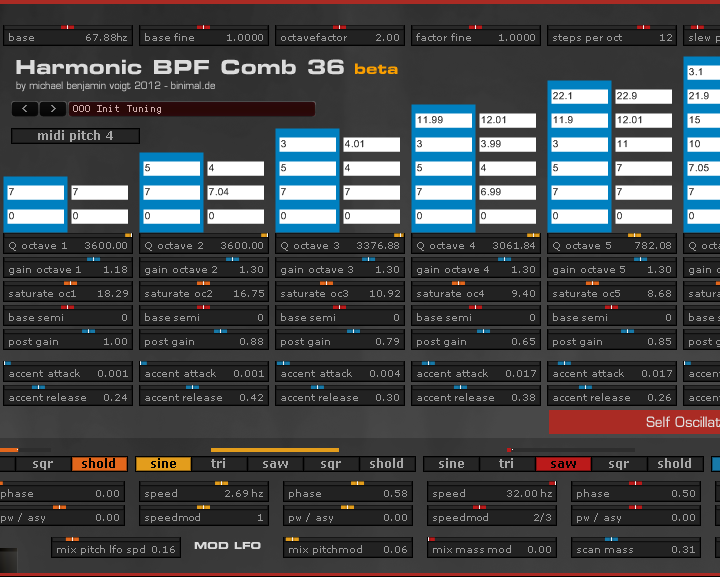 Harmonic BPF Comb 36 beta is a VST plugin that lets you do custom bandpass comb filtering with some automatic rules regarding the tuning.
36 high Q (up to selfoscillation) RBJ bandpass filters are divided amongst 8 octaves. The fundamental gets one BPF, and each octave adds one more BPF (1+2+3+4+5+6+7+8~36).
Frequencies are controlled either in detail by UI or in less-detail but with micro-tuning with MIDI-IN (up to 4 poly).
If using MIDI-IN – select microtuning, if using UI pitch – blend between 2 frequency sets (blue/black text input fields).
Change values by holding left mouse and dragging up/down, double click to reset default.
Warning: most LFO features (especially mass spring and pitch) are badly implemented and may lead to high frequency self-oscillation or complete lockup.
Harmonic BPF Comb 36 beta VST demo – static (ui)pitch fed with assorted percussion:

Drone-Regen using Harmonic BPF Comb 36 beta to carve out harmonics of a fieldrecording:

Depending on input signal this plugin can produce sinewaves at extreme frequencies that possibly blow up your speaker and/or damage your ears – watch volumes.
License is "use-at-own-risk" regarding the general concept and usage of this dll to treat signals, and "no-selling-but-otherwise-unrestricted-distribution" regarding this specific download.
download:
Harmonic_BPF_Comb_36_vst.zip (3.6mb)